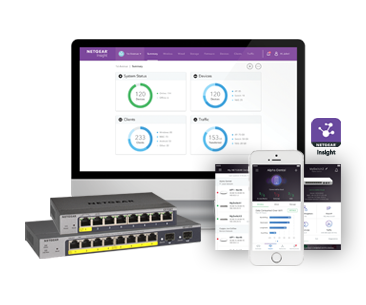 Experience the most versatile and easy to manage switches in the market
NETGEAR Insight Managed Smart Cloud Gigabit Ethernet Switches and Smart Managed Pro Switches with Cloud Management are configurable and manageable anywhere, anytime. All you need is the NETGEAR Insight management solution for easy setup, monitoring and remote/cloud management of your Insight Managed Switches, Insight Managed Wireless Access Points, and Business-class ReadyNAS storage. With their remote cloud manageability, sleek design and silent (or whisper-quiet) operation, they are the most versatile switches in the market for any environment. Now you can setup, manage and monitor your network from anywhere in the world.
Switches with Essential L2/L2+ Features for SMB Networks
NETGEAR Smart Managed Pro Switches offer powerful L2 and L2+/Layer 3 Lite features, great PoE functionality, and enhanced performance and usability. They are purposely designed for converged networks where voice, video, data are all carried on a single network platform. These switches are optimized for network efficiency, operational cost savings, and ease of management. These switches are the ideal solution even for the most advanced small and medium organizations looking for the best combination of features, performance, and value.
Designed for Converged Networks, Big or Small
PoE and PoE+ Support available for all configurations
Auto-Voice VLAN for fast and reliable deployment of VoIP
Auto-Video VLAN, following the same concept of Auto Voice, help speed up your deployment of IP-based surveillance systems
Static routing, helps route internal traffic for more efficient use of network resources
IGMP and MLD snooping, provides advanced multicast filtering
Build a Future-Proof Network with NETGEAR
Solid performance with a non-blocking architecture, VLANs, Access Control List, L3 Lite static routing, and Multicast Groups
Comprehensive IPv6 management, QoS and ACL, ensuring investment protection and a smooth migration to IPv6-based networking
PoE+ support on all ports with the PoE switches
The presence of SFP ports provide necessary fiber uplinks, while dedicated SFP ports on many models further builds uplink redundancy
Energy Efficient Ethernet (IEEE 802.3az) support for more energy savings when unused ports or short cables
Advanced QoS with IPv4/IPv6 ingress traffic filtering (ACLs) and prioritization (QoS – Diff Serv)
Dynamic VLAN assignment for easy user authentication and location-independent access to network
Network Development Made Easy
Auto Voice VLAN for easy development of VoIP
Auto Video for simple deployment of IP Surveillance
ACL Wizard for a guided tour to set up your network access control
Smart Control Center, a powerful tool for multi-switch discovery, deployment, monitoring and firmware upgrades
PoE Timer for scheduling the on/off time of your PoE powered devices
Model Description
24-Port Gigabit PoE+ Smart Managed Pro Switch with 2 SFP Ports (GS724TPv2)
Management
Insight Remote/Cloud Manageable
Total PoE Power budget (Watts)
Internal/External
Internal 100-240VAC 50-60Hz
Acoustic Noise Level @25C (dBA)